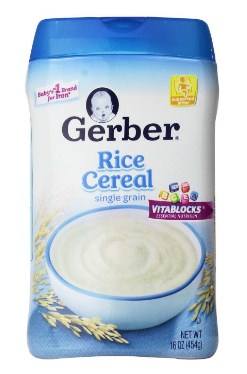 Whether and when a baby needs iron supplements?
If the infant who is born with full term and healthily, and the baby is Breastfeeding or Formula feeding (take an example, the weight of baby is growing properly), then we will not need to feed them additional iron supplements before six months .
If we make full term and healthily infant to take the additional iron supplements, who actually doesn't need the iron, it will lead to the baby healthy issue. For example, baby will grow very slowly (Head circumference and body length) and the risk of diarrhea will also be increased, ect.
Normally, the breastfeeding's iron can reserves for six months. Therefore, when baby is at the age of six month, we will need to add the food which is rich of iron on time. Here is some food rich of iron, rice cereal with strong iron (The Gerber Rice Cereal
is able to supply 90% of babies daily value for iron. ), meat mud
and etc. Meanwhile, we need to ensure the breastfeeding or formula milk for the baby.